Let me show a screenshot of my /games page, sorted by score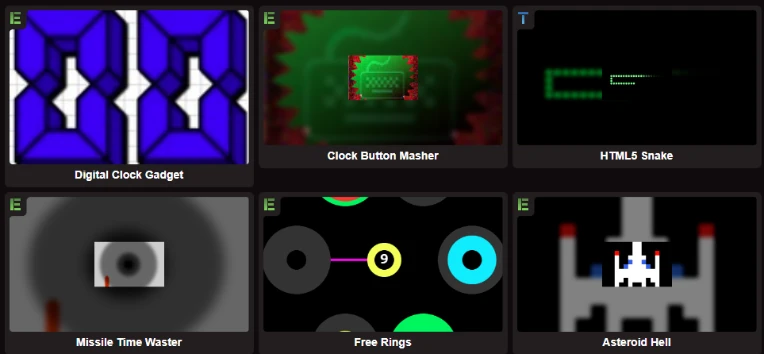 What's wrong with this picture?
I'm not mad. But I do have an issue with this site, an issue I've had for a long time that is one of the reasons I stopped coming on years ago, and that is the lack of consistency with regard to how the community judges "quality".
A decade ago, I published Clock Button Masher, Missile Time Waster, Asteroid Hell, and HTML5 Snake. Something that all of these flash games have in common is that I made them in a couple hours and didn't know what I was doing (this was the late flash era of braden lore), whereas Free Rings has over a decade of experience behind it, I spent a week developing and polishing things (and I'm still developing it--I'm in talks with a friend to see about putting up a leaderboard server for the game), it is an improvement over the original, which I enjoyed playing enough to put my money where my mouth is and recreate it.
How is it that these games, which are objectively worse, janky, unpolished (and ugly, let's be honest)... how is it that these have a higher score than Free Rings? Based on the standards I thought NG held, how does Free Rings not have a low 4 or high 3 on the merit of its gameplay alone? Sure, it has no graphical assets (the rings and animations are done with math), no audio, no engine (I made the entire thing from scratch), but all of that is sugar. What really matters is gameplay, and on that metric, I know I hit the nail on the head, because I've playtested the game for over a hundred hours and not once did I get bored. Granted, the last time I published a game that could only be judged on the merit of its gameplay, it got blammed, hehe. (Yes, I'm talking about Impossimaze)
I have a theory: the game does not have medals. The game does not bribe players with fake internet points to make up for terrible gameplay. The game has no assets, no engine and no medals. What it does have is a tight gameplay-focused design that addresses all of the things I hated about the original game and (IMO) improves them. Yet not only do I get zero feedback other than a 2-star review saying "meh", but apparently NG likes a game that I put an hour of effort into more than a game I spent a week no-life'ing, developing, polishing and playtesting until I was happy with it. So what's the point? Why would I share another game when I could just shit out a low quality game in an hour and slap on some medals and get a 4 star rating from people who care more about eye candy and achievements than having fun?
What all this tells me is that there is no consistent critical voice on NewGrounds, and that my work would be better appreciated elsewhere.
I'll see y'all on itch. So long and thanks for all the fish.